All Venoms in RAF service were finally retired from first-line service in July 1962, having proven their worth in a variety of locations across the world, in peace and war, and in some of the most difficult climates the RAF has ever faced. The example at Gatwick Aviation Museum (J1605)is an ex Swiss Air force Example built by the Swiss under licence. The Swiss Venoms remained in service until the early 1980s, with a series of upgrades to the aircraft during that time. The most distinctive upgrade was the fitting of the longer, turned-up nose also used on some Swiss Vampires. They were also fitted for carriage of a wider range of ordnance and could carry an underwing multi-sensor reconnaissance pod. After retirement, a number of the Swiss Venoms were acquired by warbird collectors and the "long-nose" Swiss Venoms are a popular attraction at airshows in the 21st century. The Swiss now fly US built F-18 Hornets
The de Havilland Venom succeeded the widely used Vampire. The prototype Venom first flew on the 2nd September 1949. Over 370 Venoms were built. A large number of these were used to equip squadrons based in Germany as a part of the 2nd Tactical Air Force. The first squadron to be equipped with Venoms was No. 11 in August 1952. It had a relatively brief career with the Royal Air Force, having been only an interim solution, and was withdrawn in 1957 and replaced by the Gloster Javelin twin-engined all-weather fighter. The maximum speed of a de Havilland Venom was 640 mph (556 kn, 1,030 km/h) and it had a range of 1,080 mi (934 nmi, 1,730 km). Its active service ceiling was 39,400 ft (12,000 m). Its armament consisted of four 20 mm (.79 in) Hispano Mk.V cannon, 150 rpg with eight RP-3 "60 lb" (27 kg) rockets or two 1000 lb MC bombs.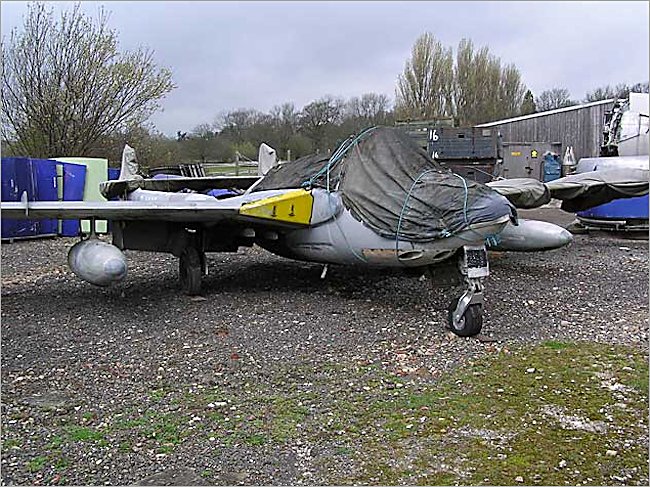 Photograph taken at the Gatwick Aircraft Museum next to Gatwick Airport Sussex England
Venoms would have been used to attack advancing Soviet armored brigades as they attacked NATO forces if the Cold War ever went hot. The primary role of the Venom F.B.4 was that of a short range, single seat fighter/bomber. With its 20mm cannons in the nose and provision for bombs or rocket projectiles the Venom could be used effectively in either the fighter or the bomber role.
Venoms also equipped the Middle East Air Force with No. 6 Squadron receiving Venoms in replacement for their Vampires in February 1954. Venoms had a considerable performance advantage over Vampires due to the new Ghost engine as well as improved wings and aerodynamics. They had an excellent rate of climb and manoeuvrability at high altitude. The Venom Fighter Bomber F.B.4 version entered squadron service in 1955. Changes introduced with the Venom F.B.4 included power operated ailerons, redesigned tail surfaces and the introduction of an ejector seat.
Venoms were also developed into Night Fighter variants. A second seat was added and changes to nose made to accommodate the A.I. radar. The prototype NF2 aircraft (WP 227) first flew on the 22nd of August 1950 and the type entered service, after some production delays, with No. 23 Squadron in November 1953.
From the 31st of October 1956 Vemons were used in action during the Suez operations to attack Egyptian airfields. They saw action once again in the summer of 1957 when No.s 249 and 8 Squadrons, based at Khormaksar in Aden, were used against Omani rebels. Venoms additionally saw service during the Mau Mau insurgency in Kenya.
The RAF fighter-bomber Venoms saw service during the Malayan Emergency which took place between 1948 and 1960, although they did not begin operations until the mid-1950s with Nos. 45 and 60 Squadrons RAF. While there, the Venom supported operations against Communist guerrillas as part of Operation Firedog, the codename for Royal Air Force operations in Malaya. Venoms were lent to the Royal New Zealand Air Force for use in the same conflict where they operated with No. 14 Squadron RNZAF
For News and information on visiting the Gatwick Aviation Museum go to their website at www.gatwick-aviation-museum.co.uk