The Gatwick Aviation Museum's RNAS de Havilland Sea Vixen XS587 All Weather Jet Fighter is one of only 67 FAW 2 Sea Vixens produced, XS587 served with 899 squadron at RNAS Yeovilton from 1963 until disbanded on the 26th of January 1972. During that time XS587 spent short time on-board HMS Victorious where she was coded 252/V. The Sea Vixen was designed and operated in its primary role as a fighter providing airborne cover for the carrier and fleet. It could also act as a bomber and could attack sea and ground targets using its considerable array of weapons. Sea Vixens saw action in Aden where they were used in support of British security forces. They were also used in southern Africa where they took part in the Beira patrols in support of the oil embargo of Rhodesia.
The RNAS de Havilland Sea Vixen XS587 was later deployed aboard HMS Eagle. On retirement from front line duties XS587 was converted for drone and target towing duties, and remarked as Target Towing MK8. The de Havilland Sea Vixen XS587 was acquired by Mike Carlton of "Hunter One" with the intention of returning it to flying condition, she was registered as G-VIXN. On the death of Mike Carlton the Sea Vixen was put up for auction and purchased by Peter Vallance. It was transported by road to the Gatwick Aviation Museum in September 1990. The de Havilland DH.110 Sea Vixen was the first British interceptor jet fighter to be armed only with missiles, rockets and bombs. This was a mistake as in hostile skies once all your defensive air to air missiles had been launched your only option was to return to the airfield or carrier as fast as you can without getting shot down. All modern fighter bombers have cannon as well as missiles.
Photograph taken at the Gatwick Aircraft Museum next to Gatwick Airport Sussex England
The Sea Vixen is easily identifiable by it's twin boom tail layout like the one used by the de Havilland Vampire and Venom. The main difference between these three jet aircraft is that the Sea Vixen is larger and has two engines. The Sea Vixen was powered by two 11,230 lbf (50.0 kN) thrust Rolls-Royce Avon 208 turbojet engines. For armament it had four de Havilland Firestreak air-to-air missiles, two Microcell unguided 2 inch (51 mm) rocket packs and had a capacity for four 500 lb (227 kg) or two 1,000 lb (454 kg) bombs. Its maximum speed was 690 mph (1,110 km/h) and it had a range of 600 mi (1,000 km) though this could be increase by air to air refueling.
When de Havilland became a part of the Hawker Siddeley group. The aircraft was known as the Hawker Siddeley Sea Vixen. Looking at the aircraft you would think that there was only needed one member of crew, the pilot. The observer was housed to the right of the off set canopy completely within the fuselage, gaining access through a flush-fitting top hatch into his position.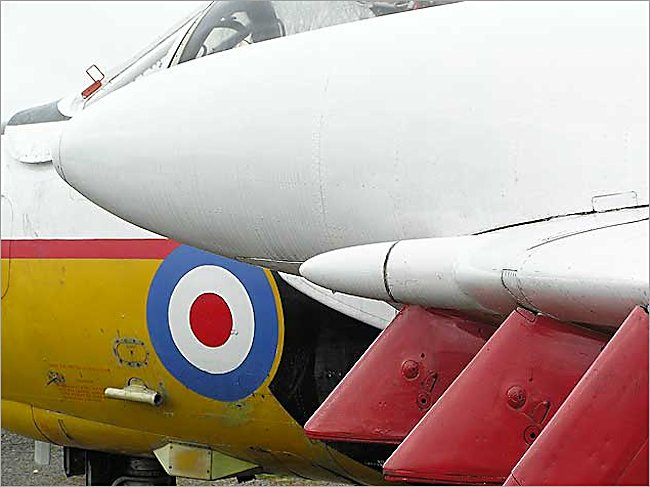 Photograph taken at the Gatwick Aircraft Museum next to Gatwick Airport Sussex England
It saw combat in 1961 in the Persian gulf and was retired from service in 1971. It had begun to replace the de Havilland Sea Venom in 1959 and became the Royal Navy's main carrier fighter of the 1960s. The de Havilland Sea Vixen interceptor was the largest of the de Havilland twin tail boom series of jet fighter aircraft. Both wings folded to enable storage on a sea going carrier. When the de Havilland Sea Vixen FAW.1 (Fighter All Weathers) entered service with the British Royal Navy it was a very modern jet fighter aircraft, matching nearly any possible enemy. It caused considerable interest from other countries, including NATO allies and Australia.
In 1963 the improved Sea Vixen FAW.2 variant entered operational service. It had the enlarged tail booms that extended forward of the wing leading edge to give more room for Electronic Counter Measures ECM equipment as well as the more fuel. The Sea Vixen could carry more modern missiles and the canopy was changed to give the pilot and observer better visibility.. Improved ejector seats were fitted.
In the summer of 1961 Iraq was about to invade Kuwait. This was the time of the height of the British Fleet Air Arm and the Royal Navy's carrier force before the cuts. The British carrier HMS Victorious moved from the South China Sea to the Persian Gulf. Royal Marines were landed in Kuwait. De Havilland Sea Vixens patrolled the skies, and when a further RN carrier arrived off Aden, Iraq's President Kassem suddenly back-pedalled on his intentions to invade. The Sea Vixen's final job was to oversee the withdrawal of British forces from Aden in 1967 before being replaced by US built F4 Phantoms.
For News and information on visiting the Gatwick Aviation Museum go to their website at www.gatwick-aviation-museum.co.uk