The RAF Avro Shackleton was a Cold War long-range maritime patrol aircraft (MPA) used originally in the anti-submarine warfare (ASW) and later adapted for airborne early warning (AEW), search and rescue (SAR) and other roles from 1951 until 1990. it has a maximum speed of 300 mph (480 km/h) and a range of 2,250 miles (3,620 km). It was powered by four Rolls-Royce Griffon 57 liquid-cooled V12 engine, 1,960 hp (1,460 kW) each with contra-rotating propeller, 2 per engine. It was armed with two 20 mm Hispano Mark V cannon in the nose and could carry 10,000 lb (4,536 kg) of bombs, torpedoes or mines. It was named after the British polar explorer Sir Ernest Shackleton. A total of 185 Shackletons were built from 1951 to 1958: around 12 are still believed to be intact, with one still airworthy
It was developed by A.V.Roe Avro from the Avro Lincoln bomber which was a derivative of the successful wartime Lancaster heavy bomber. The designer Roy Chadwick had worked on both aircraft. Wartime experience had shown the need for long range land-based maritime reconnaissance aircraft, the Shackleton fulfilled this role admirably. It's long range, long loiter time, large bomb bay, extensive array of sensors and versatile weapon load made it a formidable opponent for any submarine. These same factors made it ideal as a long reconnaissance aircraft. It's many subsidiary roles included, SAR, bomber, troop carrier, airborne control platform, mail delivery and a host of other minor tasks which were all performed in the same efficient and professional manner.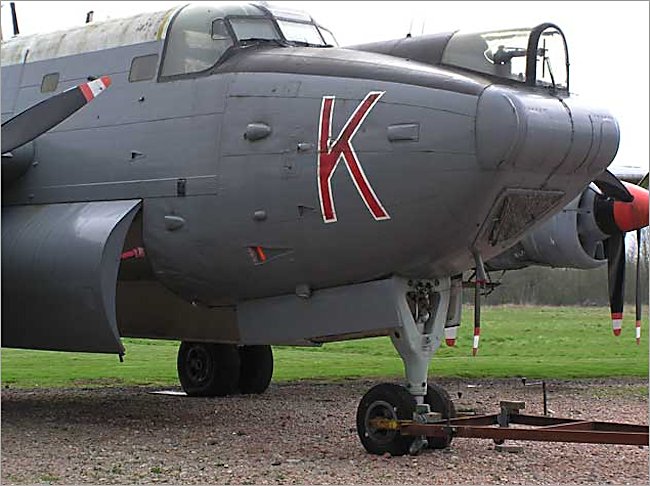 Photograph taken at the Gatwick Aircraft Museum next to Gatwick Airport Sussex England
The Shackleton M.R.1 entered service in April 1951 with 120 Squadron at Kinloss. Seventy seven MR1 and MR1A aircraft were built, including the prototypes, with production ending in July 1952. Some MR1 aircraft were later modified for training and designated T.4.
Shackleton M.R.2's introduced a streamlined fuselage, a retractable radome at the rear and a nose turret for two cannons. The prototype M.R.2 first flew on the 17th of June 1952, the type entering service with 42 squadron in Jan 1953 at St. Eval. Seventy M.R. 2's were delivered to the R.A.F.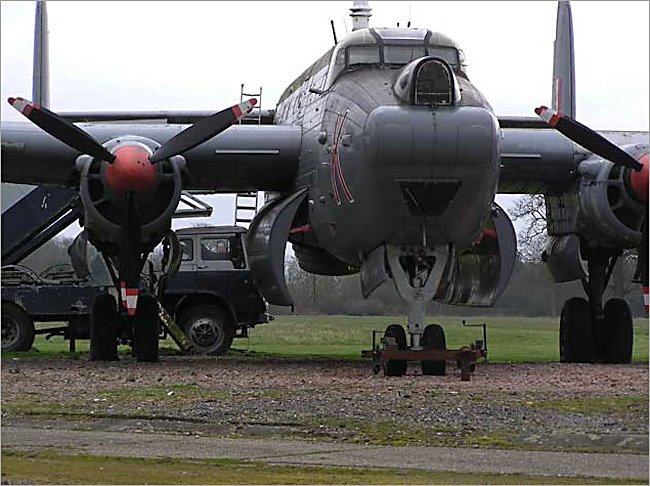 Photograph taken at the Gatwick Aircraft Museum next to Gatwick Airport Sussex England
On the 2nd of September 1955 the Shackleton M.R.3 (WR970), made it's maiden flight. Superficially similar to it's predecessors, the M.R.3 was in fact considerably different, so much so that a new design number was allocated to this mark, the Avro 716.. The tricycle undercarriage design of the M.R.3 was more in line with modern aircraft. It had additional fuel capacity in tip tanks, the cockpit was redesigned as a frameless clear canopy and the aircraft was partially soundproofed.
Thirty four M.R.3.'s were delivered to the R.A.F. A small number were sold to the South African Air Force. A number of improvements were made to both M.R.2 and M.R.3 marks, the final re-fit being to "Phase 3" standard. This refurbished the aircraft interior and added an additional sonics position as well numerous other improvements in equipment and decor.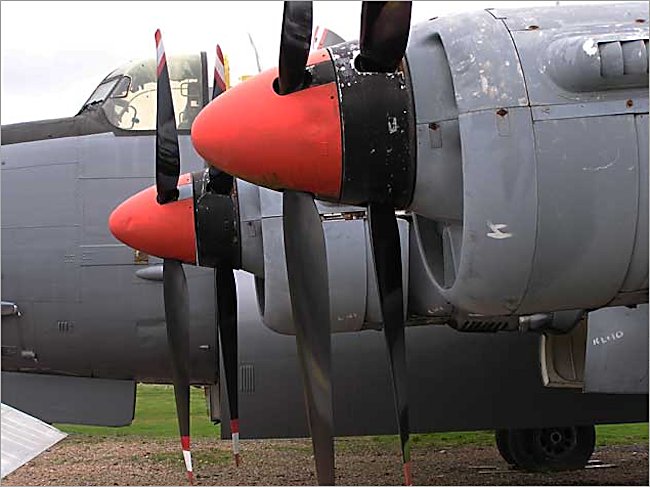 Photograph taken at the Gatwick Aircraft Museum next to Gatwick Airport Sussex England
Soon after the first MK 3 aircraft were returned to the squadrons another major change was made to the M.R.3 with a Bristol Siddeley Viper turbojet being added, one to each outboard nacelle. This change was incorporated in those MR3's undergoing Phase 3 refits. Maritime versions of Shackletons were steadily withdrawn from service during 1970/71.
The M.R.2 was refurbished and refitted in the Airborne Early Warning role with the APS 20F radar from the R.N. Gannet A.E.W.3. Only 8 squadron, formed at Kinloss in Jan 1972 were equipped with this variant and with the A.E.W. Nimrod version cancelled, were destined to carry on flying well into the 1990's.
For News and information on visiting the Gatwick Aviation Museum go to their website at www.gatwick-aviation-museum.co.uk