Gatwick Aviation Museum's Sea Princes WP308 & WF118 - WP308 was delivered to No. 750 squadron at St. Merryn, Cornwall in February 1953. She later moved with 750 Sqdn to R.N.A.S. Culdrose, Cornwall. It served 750 squadron from October 1958 until May 1979 when it was withdrawn from service. It was moved to Kemble where it was put into storage and later moved to Gloucester/Cheltenham. Here it was allocated the civilian registration code G-GACA. Finally WP308 was moved to Charlwood where it arrived on the 12th of November 1989. While serving with 750 squadron it wore the code 572/CU.
On the 13th August 1951 WF118 was delivered to R.A.E. Farnborough for trials of radio and thimble nose radar. The next couple of years until August 1956 WF118 spent a lot of time shuttling between various trials units and Percival whilst being modified. Once the trials had finished she was put into short term storage until being issued to 727 Sqdn in January 1956. The next few years she once again was used for trials and moved around various units. In September 1961 WF118 was delivered to 750 Sqdn. Hal Far ( Malta ) coded 'HF/667'. In July 1965 she was transferred to 750 Sqdn. Lossiemouth coded 'LM/619'. January 1966 Total Flying Hours = 2103. By 1972 750 Sqdn was at Culdrose and WF118 was still with them, now coded CU/569. The aircraft was sent to BAC at Hurn in late 1973 for resparring, returning to 750 Sqdn in June 1975. On the 26th June 1979 she was transferred to 5 MU. Kemble for storage. In May 1980 WF118 was put onto the British civil register as G-DACA/R1.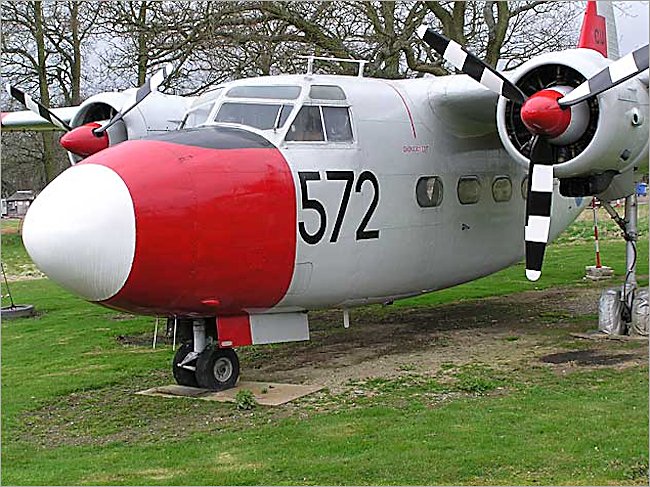 Photograph taken at the Gatwick Aircraft Museum next to Gatwick Airport Sussex England
In May 1980 G-DACA(WF118) was delivered to Atlantic & Caribbean Aviation Ltd. Staverton. October 1987 G-DACA(WF118) was offered for sale in a London Auction by Aircraft Mart of Staverton, Glos. Withdrawn from the sale as "Sold in Canada". In April 1989 she was offered again for sale by Aircraft Mart. On the 30th October 1989 G-DACA(WF118) was bought by Peter Vallance. On the 2nd January 1990 she was received by P.G.Vallance Ltd. Total Flying Hours=6221. 26th January 1999 transferred to Gatwick Aviation Museum, currently at Gatwick Aviation Museum, Charlwood on display.
The Sea Prince was a flying school room used to train navigators and radar operators in anti-submarine operations. For this role the Sea Prince T.1. was fitted with ASV 19a as its primary search radar for training radar operators and observers. In total 41 were built. It was a post World War Two twin-engine, high-wing, cantilever monoplane of all-metal stressed-skin construction; the undercarriage was of retractable, tricycle type. It could carry three students and two crew members. It had a maximum speed of 223 mph (359 km/h) with a range of 460 miles (740 km). Its maximum service ceiling was 22,000 feet (6,706 m). The Sea Prince was a landplane and not carrier based. It was also used as a light transport aircraft. Sea Princes operated in both roles from 1954 to 1972. The Sea Prince T.1 was replaced by the Handley Page Jetstream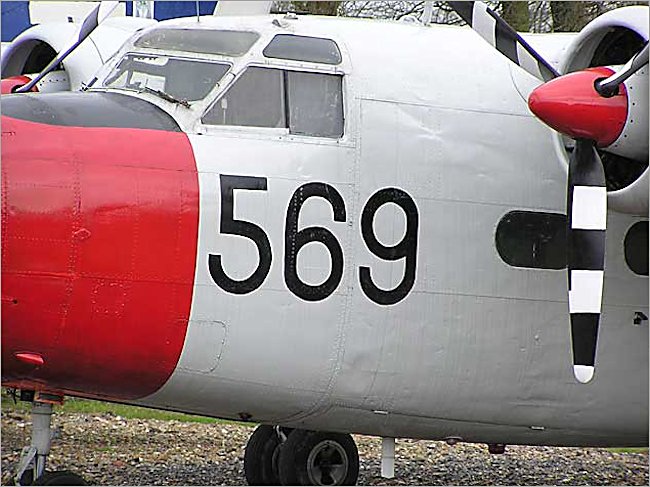 Photograph taken at the Gatwick Aircraft Museum next to Gatwick Airport Sussex England
The Sea Prince first flew on the 24th of March 1948. Two variants were ordered by the Fleet Air Arm - one version was to be used for communication and the other as a training aircraft. The first Sea Prince C1 entered service in February 1953. It was soon followed into service by the trainer version which was given the annotation of Sea Prince T1. Sea Prince aircraft were based upon the civilian Percival Prince. The first order for the Sea Prince was placed in 1949 and consisted of twenty one aircraft, three for communications and eighteen to be used in the training role. An improved version of the C1 was produced as the Sea Prince C.2. This first flew on the 1st of April 1953 with the final aircraft being delivered in September 1953.
The Sea Prince C.1. continued in service until 1965 when it was replaced by the Sea Devon and Sea Dove aircraft. However it wasn't until 1970 that the Sea Prince C.2. was retired from service. A further two orders for the T.1. were placed, one order in early 1951 for an additional eight aircraft followed later that year by a second order for another fifteen.
Some Sea Prince T.1.'s were scrapped in the 1960's when the RNVR (Air Divisions) were disbanded, but other Sea Prince T.1.'s continued in service for many years. For those that continued, their airframe fatigue life was enhanced by being re-sparred in the early 1970's. They were finally retired from service in 1979 when the Jetstream was introduced to replace them.
For News and information on visiting the Gatwick Aviation Museum go to their website at www.gatwick-aviation-museum.co.uk