NATO maintained its habit of assigning Soviet fighters with F based names and bombers with B names. In 1964 Mikoyan Design Bureau designed interceptor MiG-25P Foxbat A and photo reconnaissance MiG-25R Foxbat B. They used a lot of original technical features, for example stainless steel airframe skin usage instead of aluminium alloys, welding instead of traditional rivets and neat alcohol usage for aircraft systems cooling. Record-breaking variant E-266 established 29 world records, many of them were in force for more than 10 years.
The MiG-25 Foxbat had a maximum speed at high altitude of Mach 3.2[6] (3,500 km/h, 2,170 mph); Mach 2.83 (3,090 km/h, 1,920 mph) continuous engine limit. At low altitude its maximum speed was 1,200 km/h (650 knots, 740 mph). It had a range of 1,730 km (935 nmi, 1,075 mi) with internal fuel with a service ceiling of 20,700 m (with four missiles) (67,915 ft; over 80,000 ft (24.4 km) for the Reconnaissance Bombe RB models). It had an armament of 2x radar-guided R-40R (AA-6 "Acrid") air-to-air missiles, and 2x infrared-guided R-40T missiles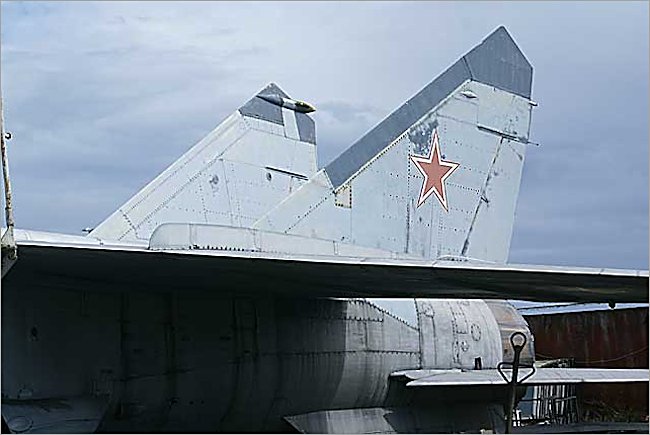 Photograph taken at the Russian Aircraft Museum next to Riga International Airport Latvia
The MiG-25 Foxbat's very high speed and altitude ability gave the Soviet Air Force Command idea to develop reconnaissance-striking variant MiG-25RB Foxbat because there did not exist such air-defence system capable to intercept it at that time. Equipment which was installed on MiG-25RB Foxbat allowed it to perform strikes with up to 500 kg calibre conventional bombs. Mass MiG-25RBS Foxbat production continued till 1977 and in general 220 MiG-25RB and it's variants were manufactured till production was suspended in 1982.
MiG-25RB Foxbats in July 1972 made several flights over Egypt and Israel. All Israeli Air Force efforts to intercept MiG's using French made Mirage III and US built F-4E Phantom fighters. The Hawk air-defence missiles failed to find their target. This worried the US Pentagon. Photos taken by MiG's covered almost the whole of Israeli territory without loss. Occasionally MiG-25RB's were used during Soviet-Afghan War. In 1980 one small group of MiG-25 Foxbats performed high-altitude photo-recce flights over Afghanistan territory. Russia Air Force utilized MiG's over Chechnya in 1994 until 2000.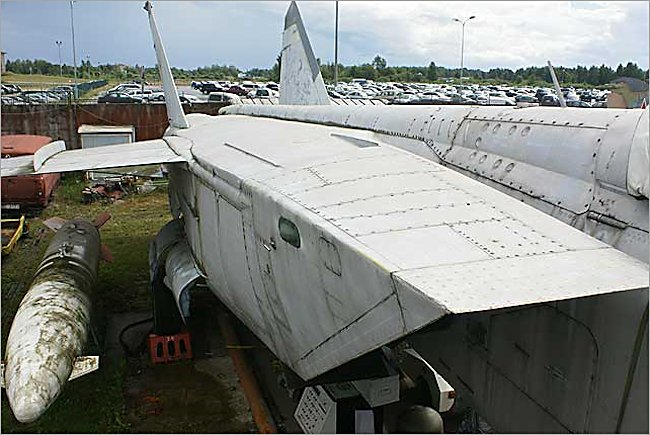 Photograph taken at the Russian Aircraft Museum next to Riga International Airport Latvia
Reconnaissance variants were exported together with interceptors. Algeria bought 24 MiG-25 Foxbat 's and used them actively in their 1980's war in Western Sahara and against local Islamic extremists. Bulgaria widely used it's three MiG-25RB Foxbat 's until 1991. They provided intelligence data for all Warsaw Pact countries. India imported six MiG-25RB Foxbat 's and used them during their long-lasting conflict with Pakistan. Iraqi Foxbats took part in their three wars and finished their career in 2003.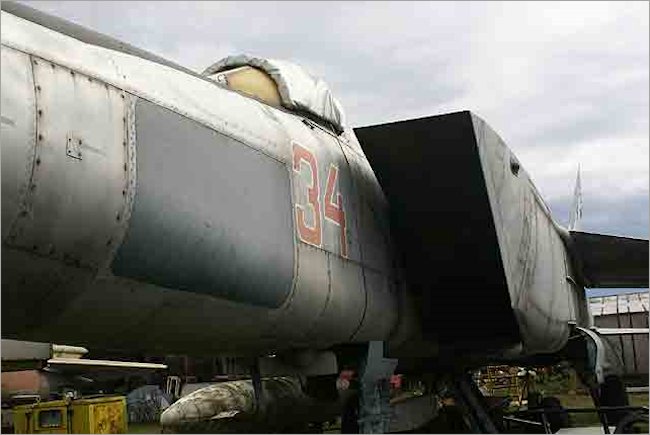 Photograph taken at the Russian Aircraft Museum next to Riga International Airport Latvia
During Iran-Iraqi War (1980-1988) eight MiG-25RB's performed reconnaissance flights and also struck various targets in the enemy hinterland, successfully hitting oil rigs terminals in Persian Gulf and bombed airbases in Tehran area. Iraqis lost two MiG-25's during this war (first was lost in 1985 due to engine disintegration and second in 1987 on landing). None MiG-25RB was lost in battle. Libya was the largest MiG-25 customer with 80 aircraft that made successful flights during its war with Chad. Syria utilized it's Foxbats in the Arab-Israeli conflicts during 1980's. After Soviet Union collapse Azerbaijan received 15 MiG-25-recce Foxbats and unsuccessfully tried to use them during the conflict with Armenia, loosing one aircraft.