MiG-23M Flogger jet fighter
MiG-23 Flogger swing wing Soviet Cold War Jet fighter aircraft first flew in 1967. Production started in 1970 and reached large numbers with over 5,000 aircraft built. NATO called all Soviet fighters code names beginning with F and bombers code names beginning with B. It is a single seat fighter with a maximum speed of Mach 2.32, 2,445 km/h at altitude; Mach 1.14, 1,350 km/h at sea level (1,553 mph / 840 mph). The MiG-23 had a range of 1,150 km with six AAMs combat, 2,820 km ferry (570 mi / 1,750 mi). Its service ceiling is 18,500 m (60,695 ft). It is powered by one Khatchaturov R-35-300 afterburning turbojet, 83.6 kN dry, 127 kN afterburning (18,850 lbf / 28,700 lbf) engine. The MiG-23 Flogger was one of the first Soviet jet fighters to be armed with beyond visual range missiles, and the first MiG production fighter plane to have intakes at the sides of the fuselage
The armament of the MiG-23 Flogger was varied. It carried one Gryazev-Shipunov GSh-23L 23 mm cannon with 200 rounds. It had six hard points, two on the fuselage, two on the wing glove, and two wing pylons for up to 3,000 kg (6,610 lb) of stores, including: R-23/24 (AA-7 Apex) medium range air to air missiles, R-60 (AA-8 Aphid) lightweight air to air missiles, R-27 (AA-10 Alamo) medium to long range air to air missiles, R-73 (AA-11 Archer) short range air to air missiles and the R-77 (AA-12 Adder) medium range, air-to-air, active radar-guided missile system. The Mig23 is comparable to the USAF General Dynamics F-111 Aardvark but was lighter and could still perform the role of a fighter in an aerial dog fight. Up to four external fuel tanks could be carried to increase the range of the MiG-23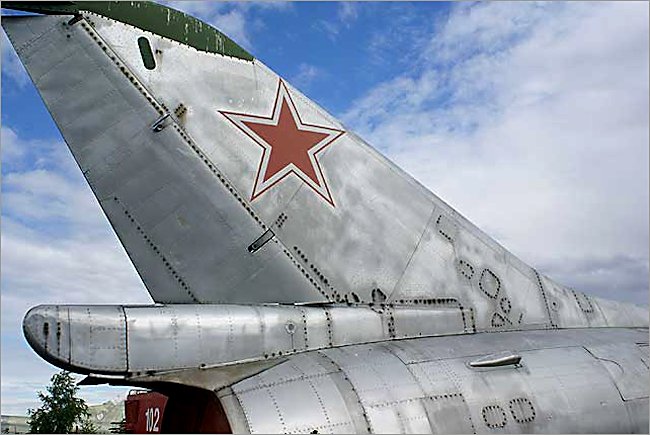 Photograph taken at the Russian Aircraft Museum next to Riga International Airport Latvia
The Mikoyan-Gurevich MiG-23 Flogger 's predecessor, the MiG-21 Fishbed soviet jet fighter, was fast and agile, but had a few deficiencies. It was limited in its operational capabilities by its primitive radar, short range, and limited weapons load. The MiG-23 Flogger was designed to be a heavier, more powerful machine to rival Western aircraft like the F-4 Phantom and General Dynamics F-111. One of the other design requirements was that the MiG-23 had a short take off ability as it was envisaged that in WW3 conventional concrete airport runways would be destroyed in NATO bombing missions. A short take off ability would enable the MiG23 to use roads.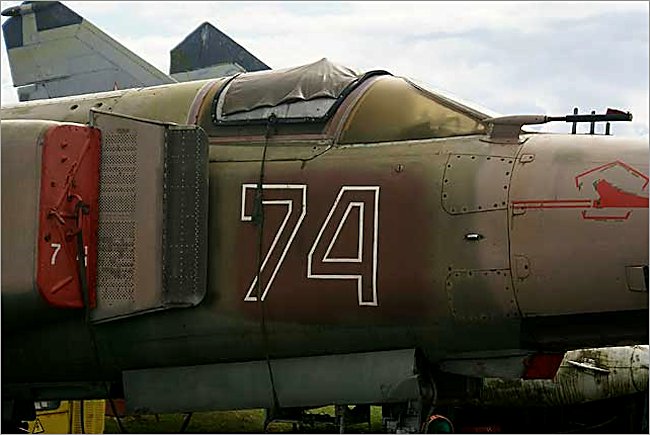 Photograph taken at the Russian Aircraft Museum next to Riga International Airport Latvia
The MiG-23M Flogger was the first mass-produced version of MiG-23, and the first VVS fighter to feature look down/shoot down capabilities (although this capability was initially very limited). Wing was modified again and now featured leading-edge slats. R-29-300 engine was now rated for 12500kp. It finally had the definitive sensor suite: improved Sapfir-23D (NATO codename 'High Lark') radar, TP-23 IRST sensor and ASP-23D gunsight. The radar had a detection range of some 45km against a high-flying fighter-sized target. It was not a true Doppler radar, but instead utilised less effective 'envelope detection' technique, similar to some 1960s Western fighter radars.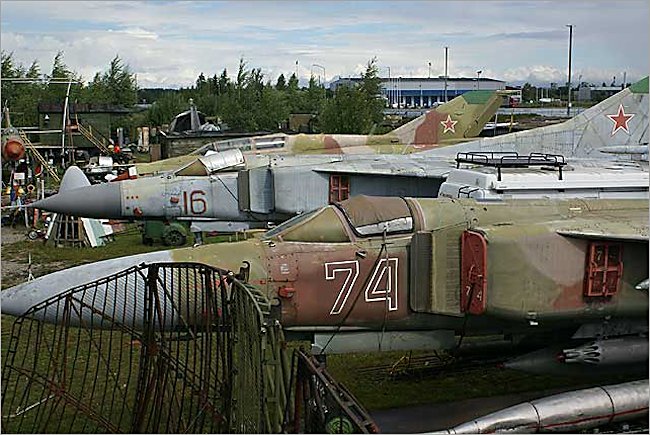 Photograph taken at the Russian Aircraft Museum next to Riga International Airport Latvia
The infrared system had detection range of around 30km against high-flying bombers, less for fighter-sized targets. The aircraft was also equipped with Lasur-SMA -datalink. Standard armament consisted of two radar- or infrared guided R-23 (NATO codename: AA-7 'Apex') BVR missiles and two R-60 (AA-8 'Aphid') short-ranged infrared missiles. From 1974 onwards, double pylons were installed for R-60s, enabling up to four missiles carried. Bombs, rockets and missiles could be carried for ground attack. Later, capability for radio-guided Kh-23 ground attack missile was added. Most Soviet MiGs were also wired to carry tactical nuclear weapons. Some 1300 MiG-23M's were produced for VVS and PVO between 1972-78. It was the most important Soviet fighter type from mid-to-late 1970s.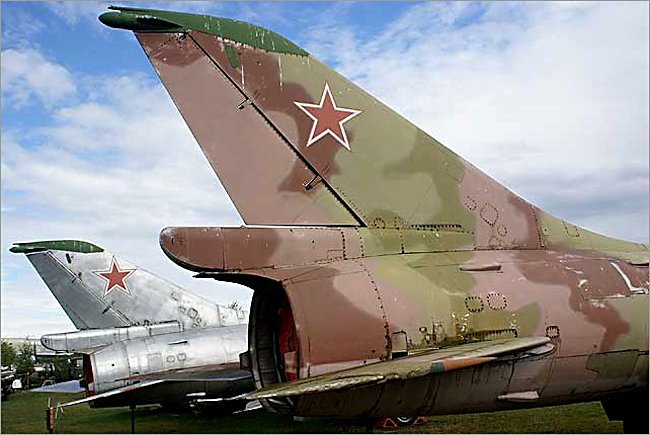 Photograph taken at the Russian Aircraft Museum next to Riga International Airport Latvia
The MiG-23 sold well due to the price. It only cost $3.6 Million US dollars compared with $14 million US dollars for one F-16 Fighting Flacon in 1980. The MiG-23 was not used in large numbers by the non-Soviet air forces of the Warsaw Pact as originally envisioned. When the MiG-23s were initially deployed, they were considered the elites of the Eastern Bloc air forces. However, very quickly the disadvantages became evident and the MiG-23 did not replace the MiG-21 as initially intended. The aircraft had some deficiencies that limited its operational serviceability and its hourly operating cost was thus higher than the MiG-21's. The Eastern Bloc air forces used their MiG-23s to replace MiG-17s and MiG-19s still in service. The MiG-23 was the Soviet Air Force's "Top Gun"-equivalent aggressor aircraft from the late 1970s to the late 1980s. It proved a difficult opponent for early MiG-29 variants flown by inexperienced pilots. Exercises showed when well-flown, a MiG-23MLD could achieve favorable kill ratios against the MiG-29 in mock combat by using hit-and-run tactics and not engaging the MiG-29s in dogfights.
America managed to get its hands on a number of MiG-23 aircraft to test against its own fleet of fighters. It concluded that the MiG-23ML was superior in the vertical to early F-16 Fighting Flacon variants, just slightly inferior to the F-16A in the horizontal, and had superior beyond visual range (BVR) capability. The Israelis tested a MiG-23MLD that defected from Syria and found it had better acceleration than the F-16 and F/A-18. Russia obtained some captured US F-5 Phantoms during the Vietnam war. They flew them against the MiG-23M and found that the F-5 Phantom was a very agile aircraft and at some speeds and altitudes better than the MiG-23M, this was one of the main reasons the MiG-23MLD and MiG-29 developments were started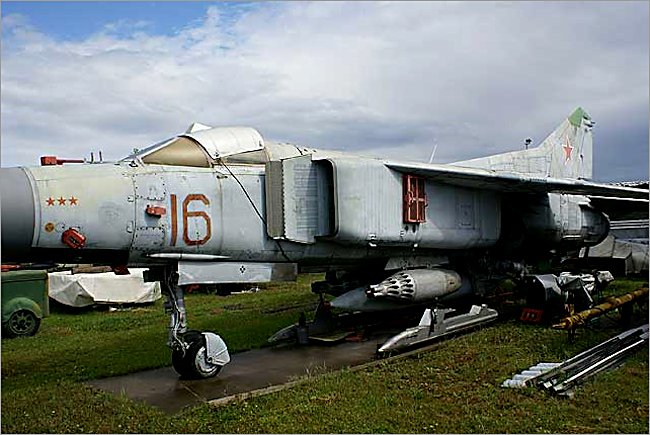 Photograph taken at the Russian Aircraft Museum next to Riga International Airport Latvia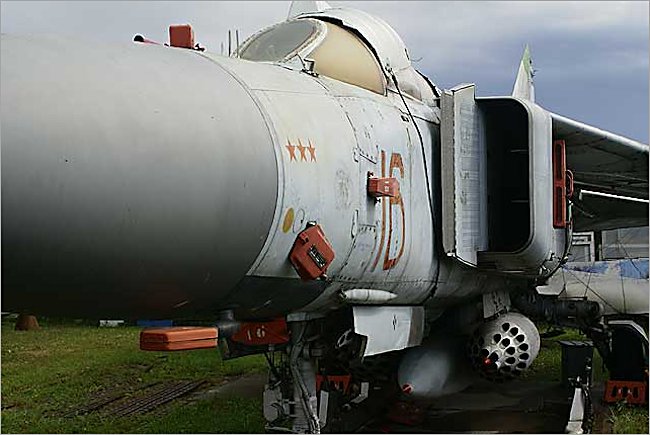 Photograph taken at the Russian Aircraft Museum next to Riga International Airport Latvia
Photograph taken at the Russian Aircraft Museum next to Riga International Airport Latvia