RAF AgustaWestland Merlin
The Merlin HC3 is the first of the next generation of medium support helicopters for the RAF. Twenty-two of the aircraft have been delivered and all serve with No 28 Squadron at RAF Benson. It is the RAF's equivalent to the US Black Hawk helicopter. The helicopter was developed as a joint venture between Westland Helicopters in the UK and Agusta in Italy (now merged as AgustaWestland). The aircraft is manufactured at the AgustaWestland factories in Yeovil, England and Vergiate, Italy. The Merlin helicopter replaced the Royal Navy's Westland Sea Kings in the anti-submarine warfare role.
The aircraft can be armed with two general purpose machine guns mounted in port and starboard cabin windows. The Merlin has two hard points for weapon carriers, on which the HM Mk1 model can carry four Sting Ray torpedoes or Mk 11 Mod 3 depth charges, though at present cannot use the Sea Skua missile.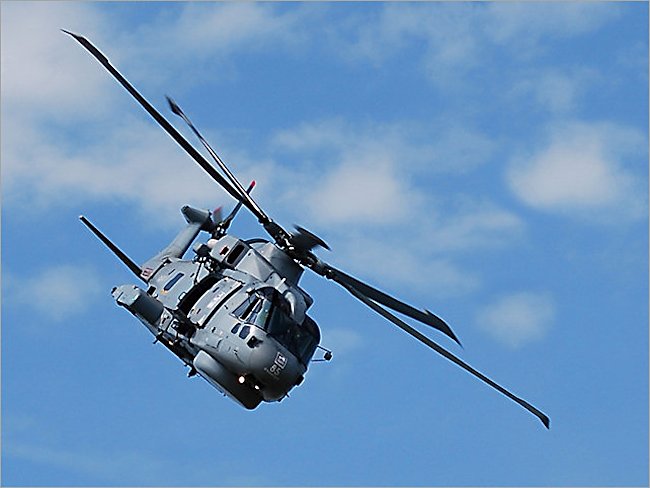 The Merlin can be equipped with a wide variety of role equipment, including a rescue hoist and a roller floor to assist loading cargo via the rear ramp. The Army AW101 helicopter can accommodate up to 24 seated or 45 standing combat troops and their equipment. The Merlin will be the first British military helicopter which can be equipped with an air-to-air refuelling probe to greatly increase the aircraft's range and reduce deployment times.
The AgustaWestland AW101 Merlin helicopter is powered by three Rolls-Royce/Turbomeca RTM322 turboshafts engines. This is the same engine used on the british version of the Apache Attack helicopter. It has a maximum speed of 192 mph. An active vibration damping system reduces the level of noise and vibration inside the cabin to a similar level to turboprop aircraft, reducing crew and passenger fatigue and increasing airframe life.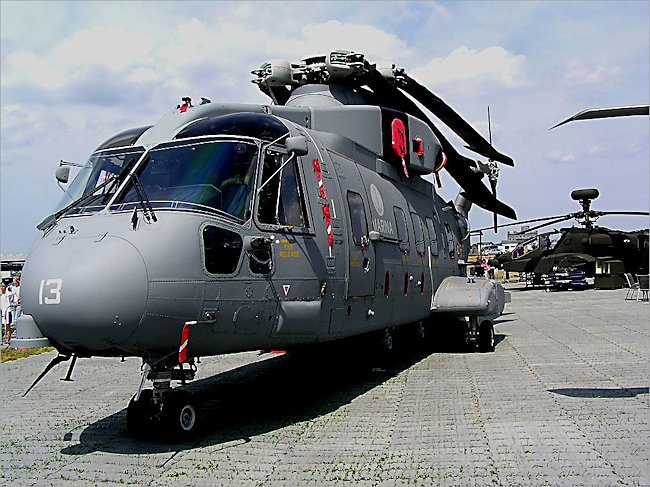 The Merlin helicopter is ideal for the movement of troops, weapons, ammunition and support stores in and around the battlefield. Merlin helicopters also perform Casualty Evacuation (Casevac) roles removing casualties and medical emergencies from forward areas. In the casevac role Merlin helicopters can carry 16 stretchers with medics.