Westland Sea King Helicopter
A Westland Sea King helicopter first flew in May 1969 and has been upgraded a number of times. Royal Air Force Air Sea Rescue Whirlwind and Wessex helicopters were replaced by the RAF Westland Sea King. British Rolls Royce Bristol Gnome engines are fitted in this license built version of the Sikorsky Sea King. They are built by Westland Helicopters and fitted with British made Anti-Submarine Warfare and rescue systems. It was replaced by the Westland Merlin Anti Submarine Warfare ASW helicopter in 2003. The Westland Sea King helicopter HC4 Commando variant was designed as a troop transporter. It was capable of transporting 28 fully equipped troops 400 miles. The Westland Sea King Mk. 5 still performs a Air Sea Rescue role around the coast and mountains of the British Isles.
During the Falkland War the lack of a fleet Airborne Early Warning (AEW) enabled Argentinean Jets to launch Exocet missiles and sink British Shipping. The ASaC (Airborne Surveillance and Area Control) Sea King Mk.7 variant came into Royal navy Operational service in 1985 as part of No.849 Squadron FAA on the RN aircraft carriers and other warships.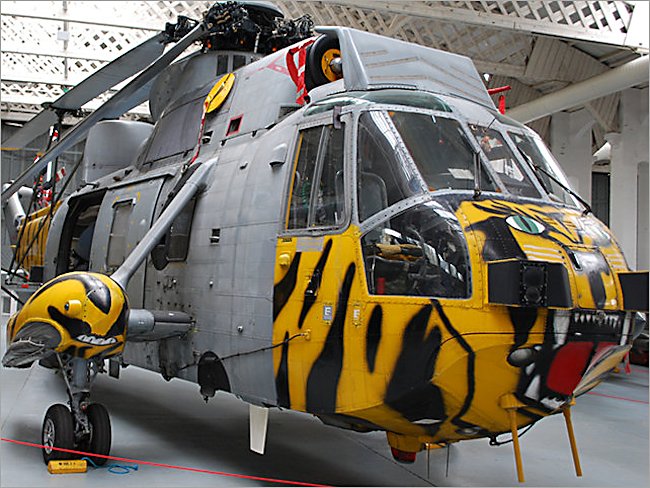 During the Falklands War the Westland Sea Kings performed many tasks from Special Forces insertions into the occupied islands to the mundane replenishment of food ammo and stores. A number of Sea King helicopters were shot down and their crew killed. Pilot Officer Casey tragically drowned on 23rd April when his Westland Sea King HC4 had to ditched whilst performing a replenisment mission at night over the South Atlantic. A systems malfunction caused another Sea King to ditching into the sea. An altimeter problem, five days later caused another Sea King to crash into the sea. In these last two cases all the crew were rescued.
On 17th of May a Sea King from No. 849 NAS landed at Puntas Arenas Chile having dropped their Special Forces officers in enemy territory. The crew destroyed the Sea King and later gave themselves up. They were returned to the Britain and were given gallantry awards for the numerous dangerous missions that they had undertaken. The Special Forces operatives were reportedly dug in near Argentine Air and sea bases during the war and able to send information back to London on Plane and Ship movements. On 19th May 22 men died when a Westland Sea King crashed into the sea after damage to its engines when it is believed a large seabird was sucked in. The Special Air Service Regiment lost 18 men in the crash, their highest number of recorded casualties in one day. Nine people survived the accident by jumping clear.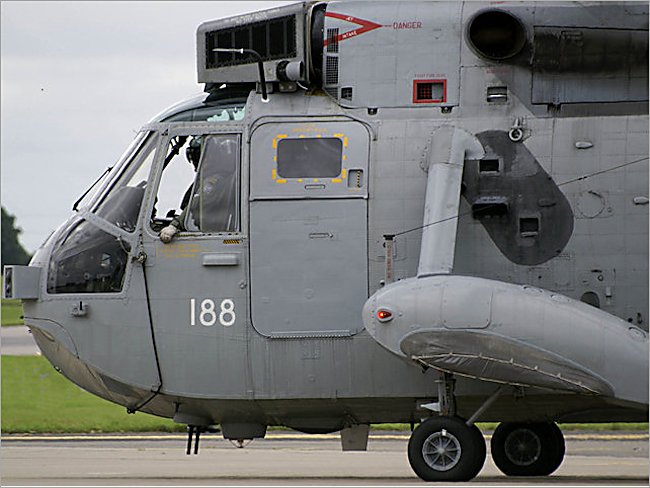 The Sea Kings During the first Gulf War Westland Sea Kings were used in inter-ship transporting duties, air-sea rescue operations and transporting Royal Marines onto embargo breaking ships. In the second Gulf War, in the Balkans and Kosovo UN Interventions Sea King helicopters provided logistical support, casualty evacuation and troop transportation.
Westland Sea King helicopter HAS1 was the first basic ASW Westland Sea King. First flew in 1969. Westland Sea King helicopter HAS2 was the first upgraded ASW variant. Some were later converted for AEW (Airborne Early Warning) duties. Westland Sea King helicopter AEW2A was originally HAC2s but were later converted for the AEW role after shortcomings in that role were revealed during the Flakland war.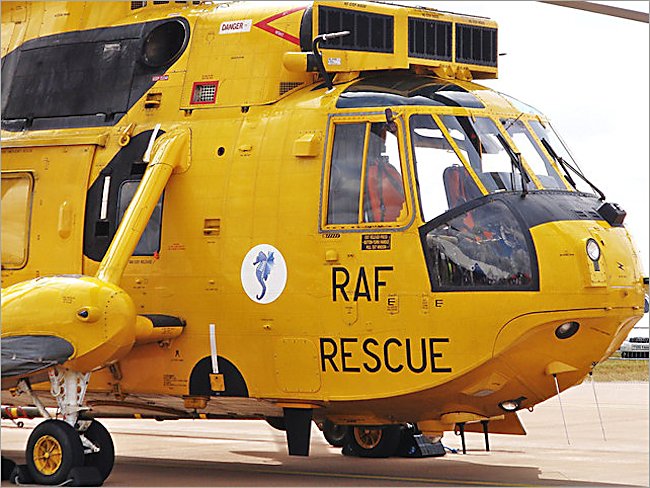 Westland Sea King helicopter HAR3 was a search and Rescue variant. Westland Sea King helicopter HC4 was a Commando variant and capable of transporting 28 fully equipped troops. Westland Sea King helicopter HAR41 , HAR43 and HAR48 were all upgraded SAR variants. Westland Sea King helicopter HAS5 was also an upgraded ASW variant but later converted for SAR (Search and Rescue) duties. Westland Sea King helicopter HAS6 was an upgraded ASW variant. Westland Sea King helicopter AEW7 was an upgraded AEW variant. Westland Sea King helicopter AsaC7 was an AEW7s uprated for the ASaC role.