The Corsair F4U fighter bomber
In 1938 the US Navy issued a request for a new single-seat carrier-based fighter. Chance-Vought submitted a unique, gull-winged airframe pulled by the largest engine then available, the Pratt and Whitney R-2800 Double Wasp. The Navy were impressed and Chance-Vought won the contract to build the F4U Corsair. The aircraft had a huge propeller that was needed to propel the plane at the desired high speeds. This meant that this navy fighter required a wing design that would make the body stand tall off the carrier deck.
The first Chance-Vought F4U Corsair was first flown on the 29th May 1940. It entered operational service on the 31st July 1942 and was given the type code of F4U-1. It then received an upgraded landing gear and cockpit modifications. The new variant, the F4U-1A, was approved for carrier duty. The US Navy, US Marines, the Royal Navy's Fleet Air Arm, the Royal New Zealand Air Force and the French Aeronavale operated the carrier-based fighter/bomber Chance-Vought F4U Corsair. Production ceased in 1952 but over two dozen Corsairs are still airworthy.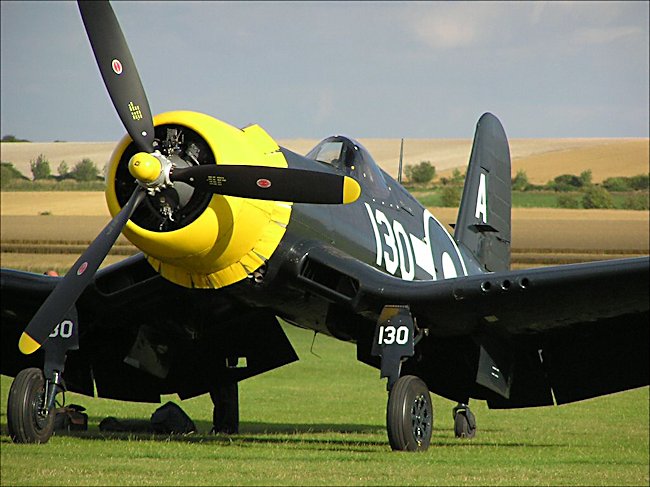 The Chance-Vought F4U Corsair had a maximum speed at 20,000ft of 420 mph and a cruising Speed of 185 mph, It had a service Ceiling of 37,000 ft. For armament it had six 12.7mm (0.50 in) machine guns, wing-mounted. The Chance-Vought F4U Corsair is known by many different nicknames Horseshoe; Bend-Wing Bird; Sweetheart; Super Stuka; Bent-Wing Ensign Eliminator; Hose Nose; Bent-Wing Monster; Whistling Death; U-Bird, Hog Nose; Hog.
Corsair F4U books
Tweet