Mil Mi-6 Hook Heavy Transport
The Russian Soviet Cold War Mil Mi-6 helicopter was given the name Hook by NATO and first flown in 1957. This thing is a monster. It is huge. You feel tiny when you stand beside it. It looks far to big to be able to hover. It was a Soviet heavy transport helicopter built in large numbers for both military and civil roles. It had a crew of 6; pilot, co pilot, navigator, flight engineer, radio operator and technician. It had a top speed of 186 mph (300km/h) with a range of 385 miles (620 km).
The Mil Mi-6 is famous for what it could carry: 90 passengers or 70 airborne troops or 41 stretcher cases with 2 medical personnel or up to 12,000 kg (26,400 lb) of internal cargo. It had a service ceiling of 14,750 ft (4,500 m). More than 800 of this heavy-lift helicopter were built before production ended in 1981. It was replaced by the Mil Mi-26 in the 1990s
The Mil-6 Hook heavy transport helicopter was built for the Soviet Air forces and Aeroflot. The helicopter was designed to meet the needs for a machine able to transport heavy trucks, tracked vehicles, oil installations and other cumbersome loads, as well as of the teams of geologists working in Siberia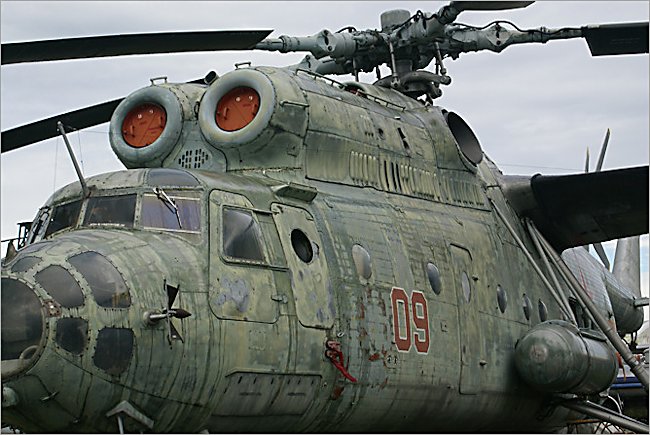 Photograph taken at the Russian Aircraft Museum next to Riga International Airport Latvia
Getting this giant of a helicopter in the air is not an easy design task. The Mi-6 Hook has an enormous gearbox, heavier than its engines, and often uses short wings to relieve the load on the rotor in cruise. The Mi-6 was powered by twin Soloviev D-25V (TB-2BM) turboshaft engines with 4,100 kW (5,500 SHP) each. It held the record for being the largest and fastest helicopter for a number of years. The large, five-blade main rotor is centered over the fuselage midsection. The fuselage is long and bus-like, with a round, stepped-up cockpit and round, glassed-in nose section and fixed landing gear. Bulged windows were mounted on the pilot's and copilot's doors to provide visibility down and to the rear.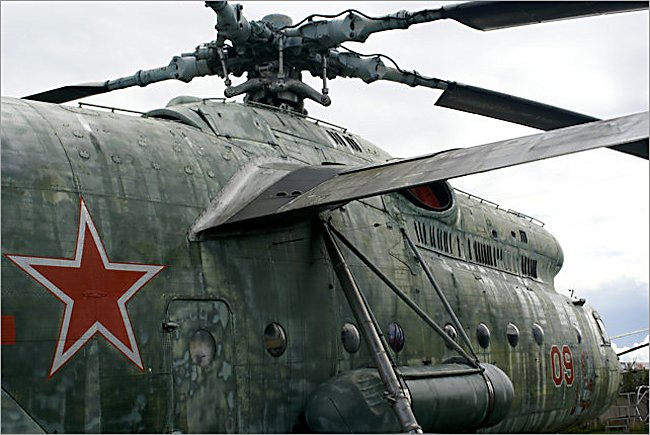 Photograph taken at the Russian Aircraft Museum next to Riga International Airport Latvia
Standard avionics provided day-night, all-weather flight capability. Military variants included an "identification friend or foe (IFF)" transponder and a radar-warning receiver (RWR) system. The Mi-6 could also be fitted with a single DShK 12.7 millimeter machine gun on a flexible mount in the nose. Apparently other weapons fits were evaluated, but it appears that the machine's vulnerability outweighed its ability to carry a heavy load of weapons.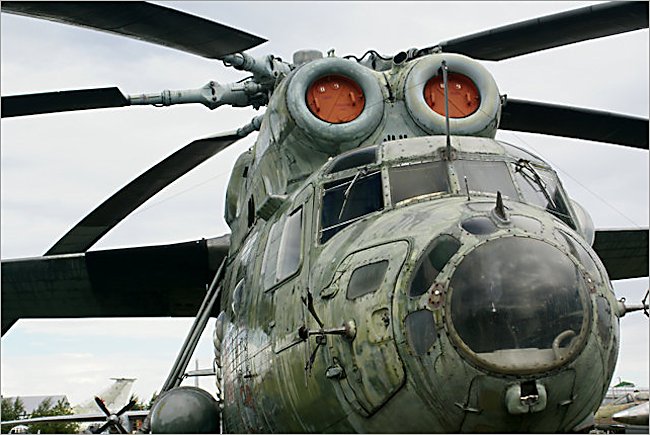 Photograph taken at the Russian Aircraft Museum next to Riga International Airport Latvia
The Mi-6 helicopters were operated by both Aeroflot and the Soviet military, particularly the Soviet Air Force. The Mi-6 was exported in small numbers to several Soviet Allies: Algeria had at least 4, Egypt operated probably 12, Ethiopia had 10, Iraq had about 15, Syria around 10, Peru 6 and North Vietnam 10. The North Vietnamese used Mi-6s during the Vietnam War to lift jet fighters from their airfields to remote locations as protection against US air strikes.
The Russians used the Mi-6 for troop and equipment airlift, refueling military vehicles in forward areas, forest fire fighting, and recovery of Soyuz space capsules. A dwindling number of old Mi-6s remained flying in Russia into the 21st century, but in July 2002 one crashed, killing 21 people, and later in 2002 the Russian Ministry of Transport ordered that Mi-6 operations cease. Possibly some may still be flying on occasion in Russia and elsewhere, but for practical purposes that was the end of the Mi-6 story.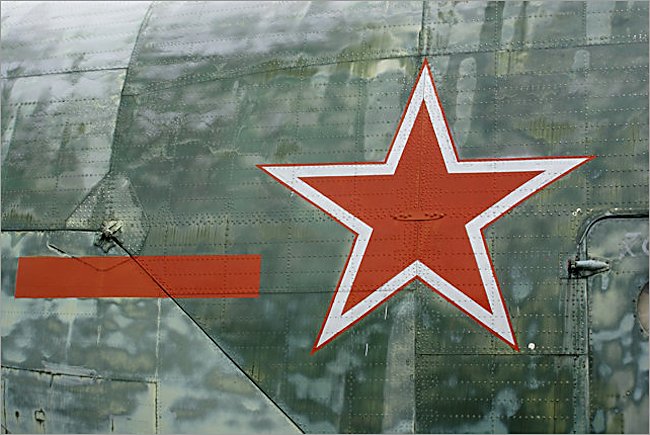 Photograph taken at the Russian Aircraft Museum next to Riga International Airport Latvia