Mi-24 Hind helicopter gunship
The Russian Mi-24 Hind helicopter gunship was developed during the Cold War to support Soviet Troops battle N.A.T.O. Forces in World War Three in Northern Europe. The US Army had developed the AH-64 Apache attack helicopter, but unlike this and other NATO assault helicopters the Russian Mi-24 Hind helicopter was also capable of transporting up to eight troops or four stretchers. It was extensively used in the failed Afghanistan War.
The Russian Mi-24 Hind helicopter had three external hardpoints mounted under each wing on which different weapon systems could be attached. These two small stub wings on either side of the fuselage gave increased lift in forward flight. Mi-24 Hind helicopters have an over pressurization system for operation in a NBC Nucelar Biological and Chemical environments. The Mi-24 had a maximum speed of 208 mph (335km/h) and a range of 280 miles (450 km) It had a service ceiling of 14,750 ft (4,500m)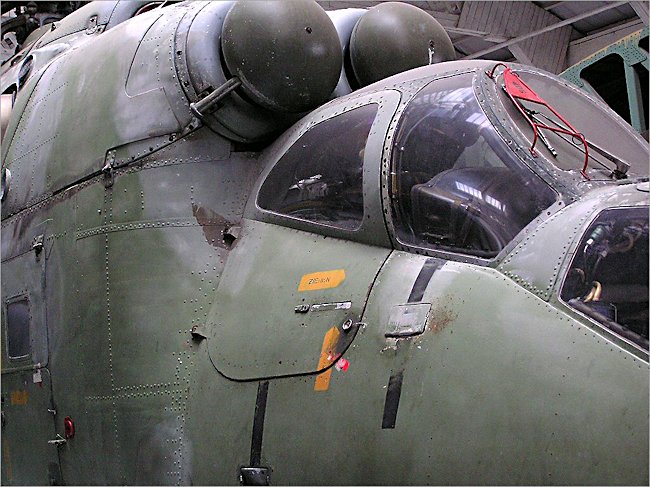 When on an anti-tank mission Mi-24 Hind helicopters would carry eight AT-6 ATGMs, 750x 30-mm rounds, and two 57-mm rocket pods. Extra ammunition could be loaded in the cargo compartment instead of carrying troops. Mi-24 Hind helicopters have armored cockpits and titanium rotor head able to withstand 20-mm cannon hits. Early versions of the Mi24 Hind had nose mounted machine guns but these were later replaced with cannon. Because of complaints from pilots the cockpit canopies on the early Hinds were modified to increase visibility.
The first prototype was produced in 1969. The first Mi-24s were delivered to the Soviet Air Force in 1970. It was kept secret for two further years but when NATO learnt about its existence they gave it the code name Hind. Soviet aircrews always called the helicopter the "krokodil" or "crocodile." It had a five-bladed main rotor and a three-bladed tail rotor. It had two engines and a relatively slender fuselage with retractable tricycle landing gear.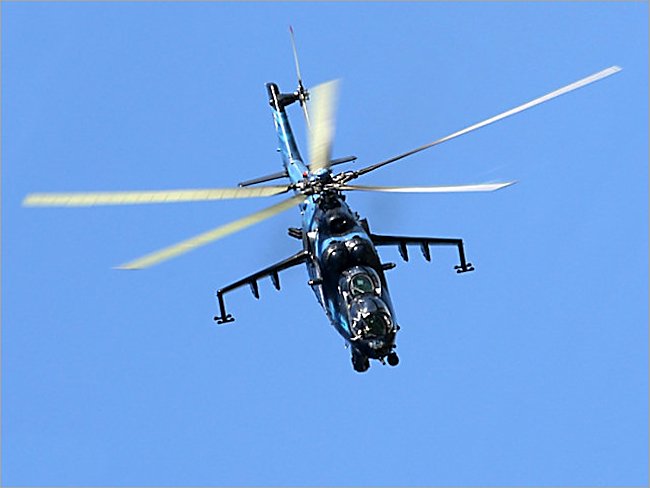 In West Germany on the boarder with East Germany NATO pilots came up against Mi-24 hind helicopter gunships on patrol. Pilots pitted their skills against the opposition without firing any weapons and it was found that the Mi24 Hind was faster and could climb more quickly than the American HueyCobra. But more importantly it was not as maneuverable. Past helicopter-to-helicopter combat engagements had demonstrated that greater maneuverability was the decisive factor. The Hind also lacked night vision and precision navigation equipment. The US AH-64 Apache can dominate the night and had the ability to kill tanks at will. In comparison the Mi-24 Hind has trouble operating after dusk.
During the Russian Afghanistan War the Hind helicopter was used to put troops into rebel Mujahidin controlled areas and then provide ground support. They were also used to attack ground targets on there own and also released chemical weapons. The Mujahidin rifles were useless against the heavily armored attack helicopter. The CIA began shipping heat-seeking Stinger surface to air SAM missiles to the Mujahidin in large numbers starting in 1983. These missiles easily homed in on the Hind's hot exhausts.
The Russians fitted cooling covers over the exhausts to reduce the hind's heat signature. This fix managed to reduce the amount of Hind losses but was not always successful. In total 333 Hinds were lost in Afghanistan. A fully loaded Hind could not hover and had to make a rolling takeoff down a runway. The Hind's performance suffered in the hot, thin air of Afghanistan. The exhaust covers reduced its maximum speed.
The Russian built krokodil Mi-24 was involved in the following conflicts, Nicaraguan civil war (1980-1988), Sri Lankan Civil War (1987-2009), Persian Gulf War (1991), Sierra Leone Civil War (1991-2002), Croatian War of Independence (1990s), First and Second Wars in Chechnya (1990s-2000s), Cenepa War (1995), Sudanese Civil War (1995-2005), First and Second Congo Wars (1996-2003), Kosovo war (1998–1999), Conflict in Republic of Macedonia (February 2001-August 2001), Ivorian Civil War (2002-2004), Iraq War (March 2003-2010) War in Somalia (2006-2009), War in Chad (2008), South Ossetia war (2008) and the current Afghanistan war.