English Electric Canberra PR.7
The Gatwick Canberra PR.7 - WH773 was the first production PR.7 Canberra. Its first flight was on 16th August 1953 and soon after was delivered to RAF charge. This PR.7 had many owners while in service with the RAF starting with 540 Sqd at RAF Wyton. It was soon transferred to 80 Sqd though, on the same airfield and stayed with them until around 1954 when once again, it was transferred on the same airfield to 82 Sqd charge.
Again on the move, WH773 was flown out to Germany to join 31 Sqd at RAFG Laarbruch. In Germany, WH773 would have been flying low-level tactical recce missions. But not for long with 31 Sqd. It was transferred yet again to the charge of 80 Sqd who flew the PR game from Laarbruch until 1957 and then moved to RAFG Bruggen. Its probable that WH773 moved to Bruggen with them. Not one to hang around, WH773 next joined 58 Sqd back in the UK at RAF Wyton where it stayed until around 1970 or so, when it was transferred yet again.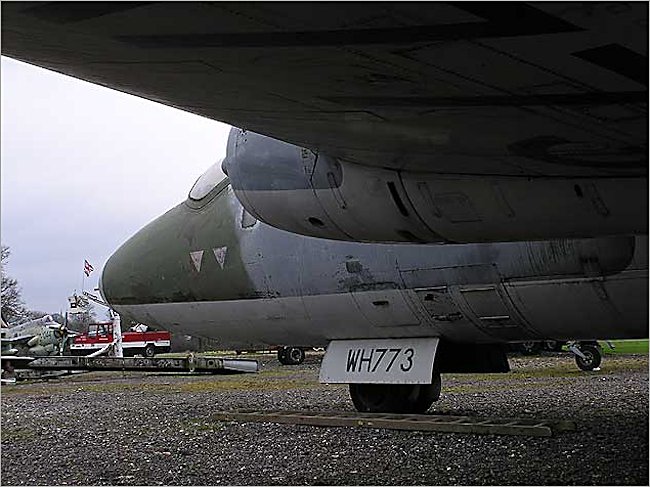 Photograph taken at the Gatwick Aircraft Museum next to Gatwick Airport Sussex England
This time to the Malta to join 13 Sqd who had recently moved to RAF Luqa from RAF Akrotiri in Cyprus. WH773 came back to the UK with 13 Sqd when they left RAF Luqa and returned to RAF Wyton. This much-owned and much-travelled PR.7 stayed with 13 Sqd until it was struck off RAF charge in June 1981. It wasn't finished with its travels however. WH773 was allocated the Ground Instructional Airframe No of 8696M and loaned to 2331 ATC Sqd for a while. However, in the late 80s it was taken back by the RAF and posted as one of three Canberra Gate Guards at RAF Wyton. WH773 still had some travelling to do though. At the time that the RAF decided that one Gate Guard would be enough per station (1990), this much-travelled PR.7 was dismantled and delivered by road to its final resting place at Vallance Byways, Charlwood.
The Cold War 1950's English Electric Canberra was designed as a light jet bomber. The original design specification included the fitting of a radar bombing system but this bombing system never materialised and instead a visual system was fitted with provision for a bomb aimer being made. The Canberra was a highly adaptable aircraft, serving in varied roles ranging from tactical bombing, photographic reconnaissance, electronic reconnaissance, and meteorological. The Canberra remained in service with the Royal Air Force from 25th May 1951 until 23 June 2006, 57 years after its first flight in 1949. The total built in Britain was 901. 48 were built under license in Australia.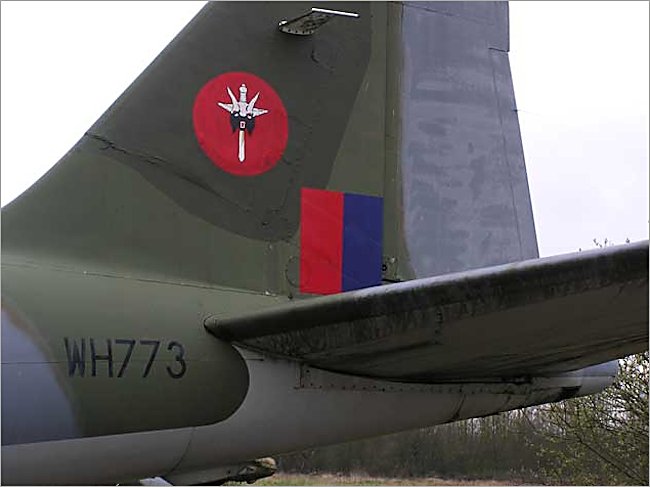 Photograph taken at the Gatwick Aircraft Museum next to Gatwick Airport Sussex England
The English Electric Canberra was intended as the successor to the de Havilland Mosquito; a high altitude, high speed bomber. The philosophy was to provide room for a substantial bomb load, fit two of the most powerful engines available, and wrap it in the smallest, most aerodynamic package possible with limited defensive armour. The aircraft would rely on altitude and speed to avoid air to air combat. The Canberra was an instant success.
It was built in 27 versions which equipped 35 RAF squadrons, and were exported to Argentina, Chile, Ecuador, Ethiopia, France, India, New Zealand, Pakistan, Peru, Rhodesia, South Africa, Sweden, Venezuela and West Germany. In the United States where the US Air Force needed to replace the B-26 Invader, 403 Canberras were manufactured under licence by Martin as the B-57 Canberra in several versions. While these were initially almost exactly the same as the English Electric pattern aircraft apart from the tandem crew seating, later models had a series of substantial modifications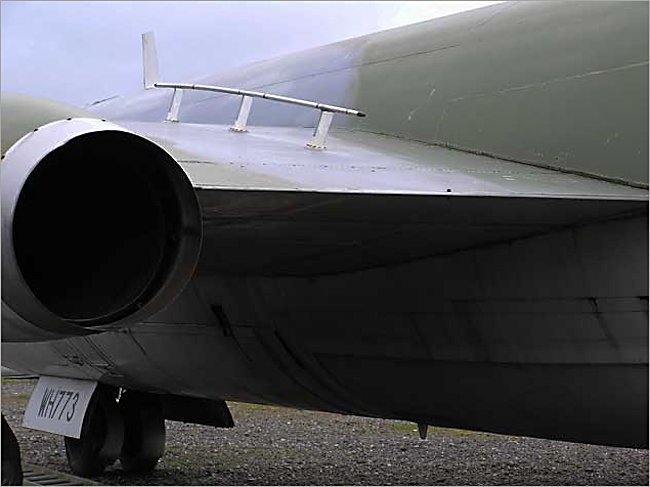 Photograph taken at the Gatwick Aircraft Museum next to Gatwick Airport Sussex England
The English Electric Canberra had a crew of three. Its maximum speed was Mach 0.88 (580 mph, 933 km/h) at 40,000 ft (12,192 m). it had a combat radius of 810 mi (1,300 km). Its service ceiling was 48,000 ft (15,000 m). It was armed with four 20 mm Hispano Mk.V cannons mounted in rear bomb bay (500 rounds/gun), or two 0.30 in (7.62 mm) machine gun pods. The Canberra could carry two unguided rocket pods with 37x 2 in (51 mm) rockets, or two Matra rocket pods with eighteen SNEB 68 mm rockets each.
A total of 8,000 lb (3,628 kg) of bomb payload can be mounted inside the internal bomb bay and on two underwing hardpoints, with the ability to carry a variety of bombs. Typically, the internal bomb bay can hold up to 9x 500 lb (227 kg) bombs, Or 6x 1,000 lb (454 kg) bombs, Or 1x 4,000 lb (1,814 kg) bomb; while the pylons can hold 4x 500 lb (227 kg) bombs, Or 2x 1,000 lb (454 kg) bombs. in addition to conventional ordnance, the Canberra was also type-approved for tactical nuclear weapons delivery, including the Mk 7, B28 (Mod 2, 70 kiloton) and B57 (as part of a joint program with the United States) plus Red Beard and the WE.177A (Mod A, 10 kiloton) nuclear bombs.] All nuclear weapons were carried internally.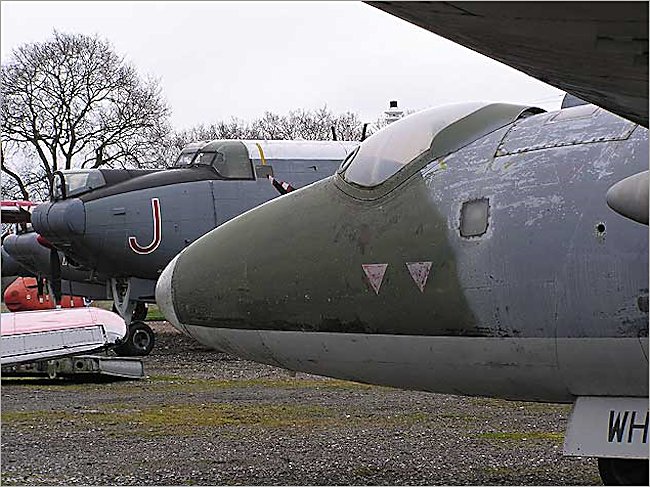 Photograph taken at the Gatwick Aircraft Museum next to Gatwick Airport Sussex England
With the introduction of the B6 Canberra another facet of the Canberra's role was added - that of nuclear bomber. At almost the same time as the bomber version was entering service so was the photo reconnaissance type in it's mark PR3 form. During it's life the Canberra fulfilled many roles, bomber, PR, ECM, meteorological, development platform and target towing being just some of it's common tasks.
The first production Canberra B2. aircraft flew on the 8th October 1950. Canberras entered service in January 1953 with No. 101 Squadron and by May of that year 101 squadron had been fully equipped with the new aircraft. Canberras began to be phased out of service in the 1960's but the last variant was still in service in the late 1990's. A total of 1,352 Canberras were built, 901 in the UK, 403 by Martin in the US, (as B57's) and 48 in Australia. Canberras were sold to over a dozen overseas countries.
The original engine selected to power the Canberra was the Rolls Royce Avon. As this was a new engine there was some doubt as to the availability of this unit due to production problems and as a consequence the second prototype was fitted with Rolls Royce Nene engines. Initial problems with the Avon were resolved and this engine, in many variants, became the standard fit into the Canberra
It's excellent design and good handling abilities made this very versatile aircraft a good development platform. The Canberra was used in both the UK and by other countries as an airborne test facility for everything from new avionics to engines and weapons system. The one of the largest operator of the Canberra outside the UK was India with over 90 Canberras on their strength.
For News and information on visiting the Gatwick Aviation Museum go to their website at www.gatwick-aviation-museum.co.uk