Gatwick Hawker Sea Hawk FGA6 XE364 (really XE489) also G-JETH. XE489 was built by Armstrong Whitworth at Coventry and was taken on charge at Abbotsinch on the 10th of January 1956. It was touring the Med with an unknown unit from October and was at Hal Far (Malta) from January 1957 until July 1958. By January 1959 it was at Lossiemouth and returned to the Med on the 22nd January 1959. XE489 returned from the Med on the 12th of March 1959 and was at Brawdy in July 1959. In January 1961 she returned to Abbotsinch. From there she then went to Fleetlands in July 1960 and back to Abbotsinch by January 1961. It then joined the fleet requirements unit at Hurn on the 17th of June 1961 and received the code "026" by April 1963. The fleet requrements unit used this type for gun calibration and target work. In this guise it wore a distinctive black colour scheme and carried a Leigh light in a specially modified port drop tank. XE489 was away at Sydenham on overhaul from the 3rd of September 1963 until the 11th of October 1963.
On retirement at Hurn it was aquired by the British Historic Aircraft Museum and flown into Southend on the 20th of May 1967, its last flight. By this time the Sea Hawk had accumulated a total of 1564 flying hours. After a period of external storage, the British Aircraft Historic Museum painted it up as XE364 (485/J) to represent an aircraft from HMS Eagle with No. 899 Squadron. This unit saw action in the Suez conflict of 1956. The aircraft was bought by Michael Carlton in 1983 and placed on the British Register as G-JETH, it was delivered by road, back to Hurn. The intention was to carefully restore the airframe to flying condition. Once restored the plan was for it to become a part of the Hunter One collection and to join the display circuit in 1985. The tragic death of Michael Carlton brought these ambitions to an end. The whole collection, Sea Hawk XE489, G-JETH, Hunter MK 51 G-HUNT, Hunter G-BOOM, Jet Provost G-PROV, Jet Provost G-JETP, Sea Hawk G-SEAH, Gloster Meteor G-JETM and Meteor NF 11 G-LOSM was offered for sale by auction at Hurn Airport by Christies on the 1st of October 1987. Hawker Sea Hawk XE364 (XE489), G-JETH, was purchased by Peter Vallance and transported by road to its new resting place at Vallance By-ways on the 10th of October 1987. It was to be the first in the line of a unique and unusual collection of classic aircraft.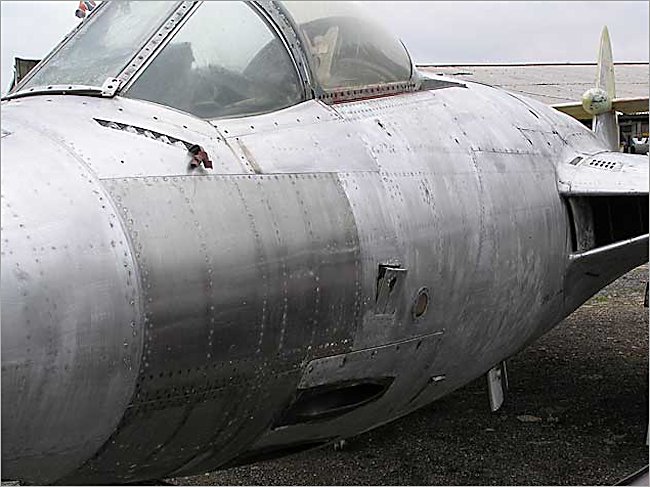 Photograph taken at the Gatwick Aircraft Museum next to Gatwick Airport Sussex England
The Hawker Sea Hawk Single seat naval jet fighter took over from the Hawker Sea Fury. It first flew on 2nd September 1947. Its armourment was Four 20 mm cannon mounted in lower portion of fuselage nose. Provision for bombs or rocket projectiles on underwing racks. It had hinged wings to enable it to be stored on aircraft carriers. It was designed by Sir Sydney Camm of Hawker Aircraft. The maximum speed of the Hawker Sea Hawk was 600 mph (965 km/h)with a range of 480 miles (770 km). It had a service ceiling of 44,500 ft (13,564 m). It had 4 x 20 mm (.79 in) Hispano Mk V cannons (200 rpg). There were 6 underwing hardpoints and provisions to carry combinations of 20 x "60 lb" (27 kg) unguided rockets or 16 x 5 in (127 mm) unguided rockets. It could also carry 4 x 500 lb (227 kg) bombs or 2 x 90 Imp gal (410 l) drop tanks
The first variant of the Sea Hawk (F 1) first flew on the 3rd of September 1948. Deck landing trials were carried out on HMS Eagle in 1952 after which it was declared to have "excellent" deck landing characteristics.
After the first 35 airframes had been built by Hawker, production was transferred to Armstrong Whitworth as hawker were building the Hawker Hunter. A number of variants were produced culminating in the final model the FG6A. This final variant of the Sea Hawk was very highly regarded by the pilots who flew it.
The Sea Hawk was a versatile aeroplane and was an early example of a multi-role Fighter before such a term was invented. It's flexibility was recognised by the Indian Navy who continued to operate the type until it was finally replaced by the Sea Harrier Jump Jet fighter in 1984.
In its first variant the Sea Hawk was designed and operated in its primary role as a fighter providing airborne cover for the carrier and fleet. It had secondary roles including reconnaissance, ground attack and forward air control to assist naval gunfire. Later variants enhanced the aircraft to enable the ground attack and bomb carrying capability to be used as a primary role. Strengthened wings allowed the FB 3 version to carry external stores like iron bombs and rocket projectiles.
Hawker Sea Hawk Fighter bomber FB 3s saw action during the Suez crisis in 1956 where they were used to attack ground targets using their cannons to great effect. The United Kingdom, France and Israel took part in the campaign, with the Anglo-French invasion being known as Operation Musketeer, beginning on 31 October 1956. Six Sea Hawk squadrons took part: two were aboard the fleet carrier HMS Eagle, and two each aboard the light fleet carriers HMS Albion and HMS Bulwark.
In Indian Navy service (beginning in 1960), Sea Hawks were used aboard the aircraft carrier INS Vikrant, ex-HMS Hercules, and saw service during the Indo-Pakistani War of 1965 and the Indo-Pakistani War of 1971. The latter war saw Sea Hawks being used very effectively by the Indian Navy; these aircraft racked up nearly a dozen "kills", mainly of Pakistan Navy gunboats and Merchant navy ships and cargo ships in East Pakistan (present day Bangladesh) without losing a single aircraft in the war.
The Sea Hawks in Fleet Air Arm service began phasing out from first line service in 1958, the year the Supermarine Scimitar and de Havilland Sea Vixen entered service, both of which would eventually replace the Sea Hawk. The last first line Sea Hawk squadron disbanded at RNAS Brawdy in December 1960, ending a very brief career for the Sea Hawk. Most Sea Hawks in second line service were withdrawn by the mid-1960s. The last operational Royal Navy Sea Hawks were the "black" Fleet Requirements Unit at Hurn that retired the type in 1969
For News and information on visiting the Gatwick Aviation Museum go to their website at www.gatwick-aviation-museum.co.uk