USAAF Mitchell B-25 Medium bomber
The United States Army Air Corps ordered the production of the B-25 Mitchell Medium Bomber in August 1939 after evaluation of a prototype. Large scale production just in time for when America entered World War Two. It was constructed and designed by a company called North American Aviation. This aircraft was originally intended to be an attack bomber for export to the United Kingdom and France but both counties cancelled their orders. General Billy Mitchell, was a pioneer of U.S. military aviation and this new twin-engined medium bomber was named in his honour. A total of 6,608 B-25s were built at North American's Fairfax Airport plant in Kansas City, Kansas.
Four months after the bombing of Pearl Harbor and America's entry into World War Two, sixteen USAAF B25 Mitchells Bombers were put onto the USS Hornet Aircraft Carrier. They were used to bomb Tokyo our other Japanese cities in 18th April 1942. Though this raid was of little military value the psychological value was immense. Lieutenant Colonel Jimmy Doolittle was the commanding officer and the mission became known as the Doolittle raid. The Japanese had believed that their home islands were safe from enemy action. This bombing raid was a big shock. The amount of bomb damage inflicted by the B25 Mitchells was relatively minor but it forced the Japanese to divert troops for home defense for the remainder of the war. The Doolittle raid gave a much-needed lift in spirits to the American Public.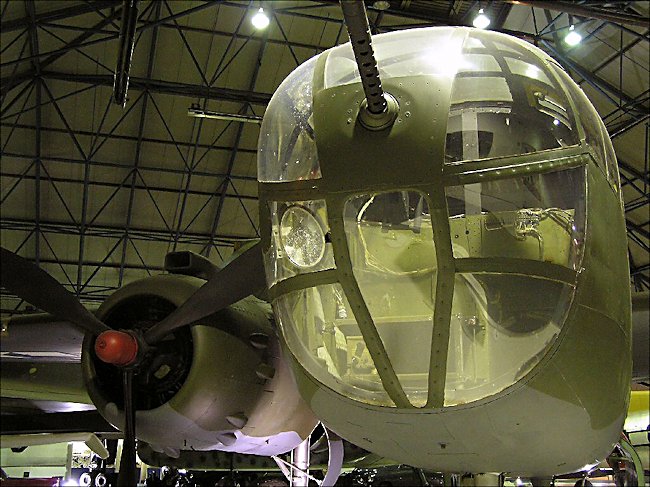 Photograph taken at the RAF Museum, Hendon, London NW9 5LL England
The USS Hornet Aircraft Carrier was spotted by Japanese fishing vessels forcing the B-52 bombers to take off 170 miles (270 km) early, fuel exhaustion, stormy night time conditions with zero visibility, and lack of electronic homing aids at the recovery bases. All pilots and aircrew knew it was a one way mission. They did not have enough fuel to return. There had been a plan to land in friendly airfields in Eastern China but 15 Mitchells crash-landed before reaching their landing zone. Some crash landed in Japanese held territory and were captured or killed. Only one B-52 landed intact in the Soviet Union, where its five-man crew was interned and the aircraft confiscated. Only 69 of the 80 aircrew survived and eventually made it back to American lines.
The USAAF based their B-25 Mitchells in the Mediterranean with the 12th United States Army Air Force. In the Pacific where they were used on low level straffing and bombing runs against Japanese airfields and resupply vessels. The USAAF did not operationally base them in Britain but the British RAF, Dutch and Russian Airforces received large numbers of B25 Mitchells. For the Royal Air Force Bomber Command this was one of the first operational aircraft that had a nose wheel. It improved forward vision on the ground and improved ground handling.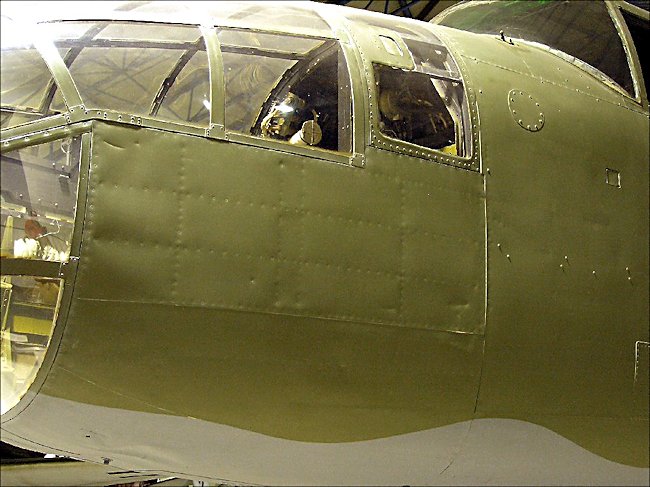 Photograph taken at the RAF Museum, Hendon, London NW9 5LL England
Most bombers of WW2 had their guns in turrets. The B-25 Mitchell was different. Guns and later cannons were fitted to the fuselage just like a fighter rather than a bomber. One of the first ideas was the installation of a machine gun "pack". The bombardiers compartment was removed and replaced with four Browning M2 .50 cal (12.7 mm) machine guns in the nose of the Mitchell and four more in blisters on the sides of the craft.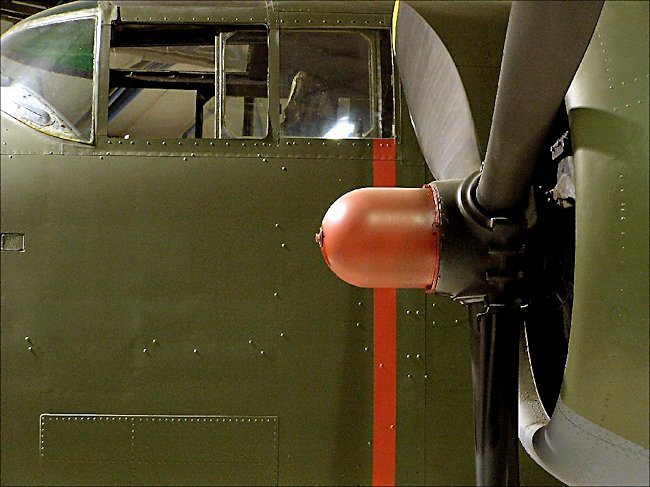 Photograph taken at the RAF Museum, Hendon, London NW9 5LL England
The B-25 became an awesome strafing machine with eight forward firing guns. Later, they rigged a lock for the top turret making a total of ten .50 cal (12.7 mm) machine guns, all fired simultaneously controlled by on finger of the pilot. In a later B25 variant an armour piercing cannon was added. It required a crew member to load, fire and clear the casing. When it fired it felt like the aircraft had hit a brick wall. The 75 mm shell could knock out a tank and punch very large holes in Japanese destroyers and barges at a range of nearly 2 miles causing them to blow up, catch fire or sink.
Mitchell B-25 books
Tweet