RAF Fairey Battle Light Bomber
By the outbreak of World War two the Fairey Battle Light Bomber was obsolete but remained in front line service due to the lack of modern fighter bombers to replace it. The Fairey Battle Light Bomber was introduced into RAF service in 1937. It could carry twice the amount of bombs as the Hawker Hart. Battle was weighed down with a three-man crew and a bomb load. When confronted with Messerschmitt Bf 109 it just did not have the defensive armament and was totally lacking in speed. It only had two .303 machine gun. It was unsuitable to unescorted daylight bombing missions.
No 266 Squadron was one of the first RAF units to be deployed to France when war was declared. It was equipped with Fairey Battle Light Bombers. The Fairey Battle recorded the first RAF aerial victory of the Second World War. On 20 September 1939, a German Messerschmitt Bf 109 was shot down by Battle gunner Sgt. F. Letchard during a patrol near Aachen, marking the RAF's first aerial victory of the war. On 14th May 1940 Fairey Battles were dispatched to try and stop the Germans crossing bridges at Sedan. Thirty five Fairey Battles were lost on that attack. After suffering huge losses they were recalled back to Britain where they carried on bombing attacks on German occupied Channel Ports.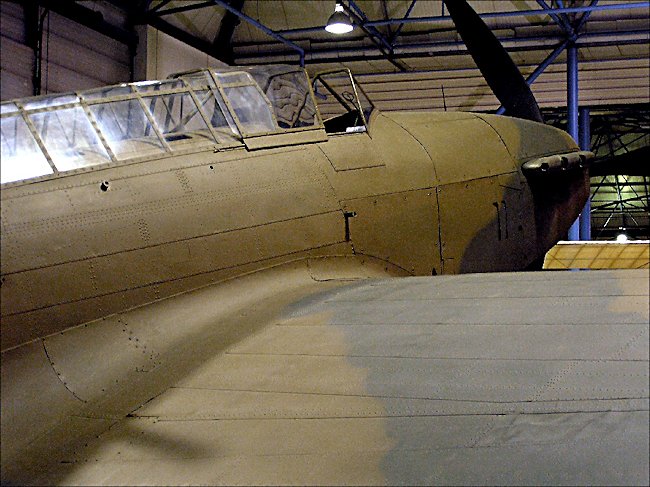 Photograph taken at the RAF Museum, Hendon, London NW9 5LL England
Many Fairey Battle were switched to night bombing to reduce casualties. In France during six weeks before Dunkirk almost 200 Battles were lost, with 99 lost between 10 and 16 May. After the Battle of Britain ended in September 1940 they were withdrawn from service and used as a training aircraft in Canada and the UK. All RAF Bomber Command Squadrons that had been equipped with Fairey Battles were re-equipped with Vickers Wellington Medium long range bombers.
The Fairey Battle is best remembered for the heroic mission to stop the advance of the German Blitzkrieg rolling into Belgium and France. Six Battles of No.12 Squadron RAF were given the mission to blow up the two road bridges over the Albert Canal near Maastricht on 10th May 1940. They split into two groups of three but came under a murderous wall of anti-aircraft fire and small arms fire. They were all shot down. Two Victoria Crosses were awarded posthumously for the action, to Flying Officer Garland and air observer/navigator Sergeant Gray of Battle P2204 coded PH-K, for pressing home the attack in spite of the heavy defensive fire. The third crewmember, rear gunner Leading Aircraftsman Lawrence Reynolds, did not share the award. Garland's Battle destroyed one span of the bridge,but the German army engineers quickly erected a pontoon bridge to replace it.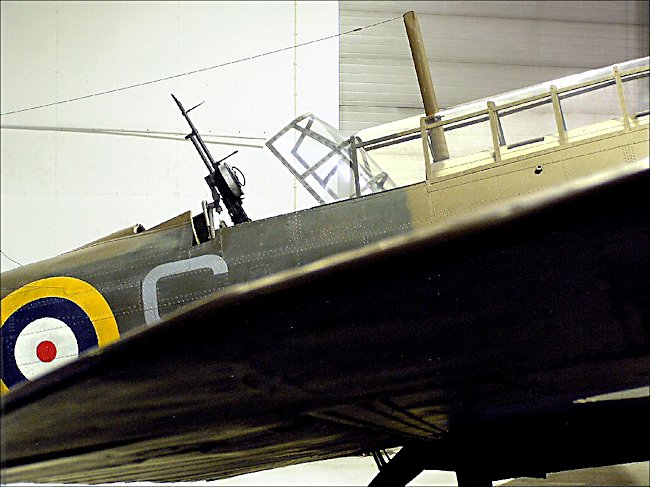 Photograph taken at the RAF Museum, Hendon, London NW9 5LL England
The Air Ministry had issued Specification P.27/32 for a new two-seat day bomber, to replace the ageing Hawker Hart and Hind biplane bombers. The prototype Fairey Battle first flew in March 1936. The RAF liked what they saw. It was an improvement on the Hart and Hind so they ordered the Battle to be put into production. The first Fairey Battle light bomber was constructed at Hayes, Middlesex in June 1937 but all subsequent aircraft were built at Fairey's new factory at Heaton Chapel, Stockport and tested at their Manchester Ringway facility. Austin Motors "Shadow Factory" at Longbridge manufactured 1,029 aircraft. Total production was of 2,185 machines.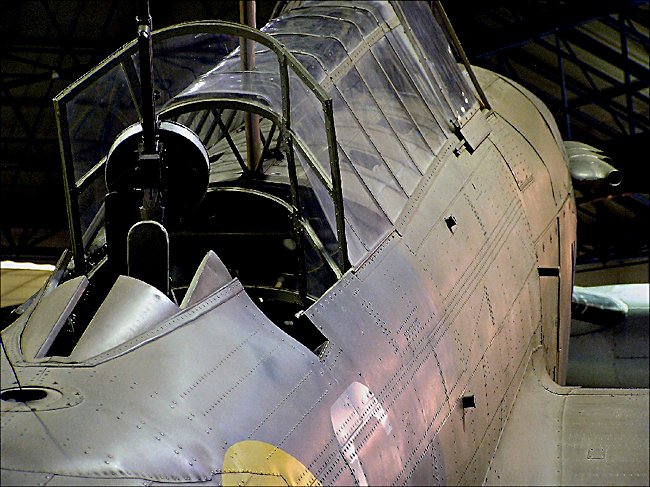 Photograph taken at the RAF Museum, Hendon, London NW9 5LL England
The Fairey Battle was an all-metal, low-wing cantilever monoplane, equipped with a retractable tail wheel landing gear which was very high tech at the time. It had an aerodynamic long and slim fuselage design. It's cockpit was built for three crew members; the pilot, navigator and gunner. They were seated in tandem under a continuous glazed canopy. It looked like a large fighter rather than a bomber. Fairey Battles were powered by the Rolls Royce Merlin I, II, III and V, and took their Mark numbers from the powerplant. This meant that a Fairey Battle Mk II was powered by a Merlin II. The Battle was armed only with a single Browning .303 machine gun fixed ahead and with a trainable Vickers K in the back, This was not enough fire power when coming up against the ME109. It lacked an armoured cockpit and did not have a self-sealing fuel tanks. The Battle's standard payload of four 250 lb (110 kg) bombs was carried in cells inside the wings and an additional 500 lb (230 kg) of bombs could be carried on underwing racks.
Fairey Battle Books
Tweet