German Heinkel He 162 jet fighter
One of Nazi Germany's last ditch effort to win back air superiority over Germany was to introduce the Heinkel HE 162 Luftwaffe interceptor jet fighter. It was cheap to produce and easy to fly but like many of the German technological breakthrough advanced weapons it came too late to effect the outcome of World War Two.
Germany had lost air supremacy. It needed a cheap fast jet fighter that could be produced quickly to deal with the huge waves of Allied bombers and could out fly the escorting US P51 Mustang fighters. It was the first single engine jet fighter. The HE162 was the first single engine jet fighter fitted with an ejection seat. It only took 3 months from drawing board to prototype. 20mm guns were fitted to the 120 Heinkel HE 162 A-2 version where as the A-1 version was armed with 30mm guns.
Photograph taken at the RAF Museum, Hendon, London NW9 5LL England
The Heinkel HE 162 used a high proportion of wood in its construction due to the shortages of light alloys. The designer made sure that it could be produce by semi-skilled labour at a number of dispersed sites. The Messerschmitt Me 262 was technically a better aircraft but had a very unreliable jet engine and landing gear. It also needed more materials to construct and took a lot longer to produce. Defective ME262 aircraft would wait for spare parts to fix the defective jet engine that would never arrive, or for fuel that was not available. Logistics became a serious problem for the Luftwaffe as the war progressed.
Trying to maintaining aircraft in an operational fighting condition without parts was almost impossible. As the HE162 was so inexpensive and quick to produce a machine that was damaged or defective could simply be discarded. The throwaway fighter concept was born. Luftwaffe senior officers objected to the production of this cheap jet fighter but they were overruled by the Reichsmarschall Hermann Göring and Armaments Minister Albert Speer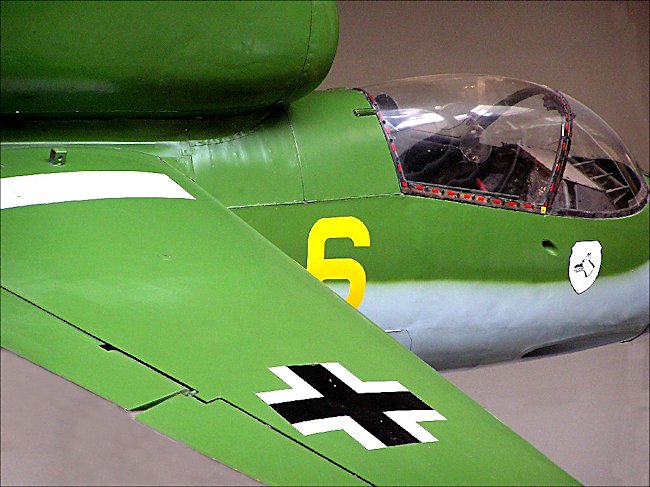 Photograph taken at the RAF Museum, Hendon, London NW9 5LL England
The Heinkel HE162 Jet fighter was constructed from cheap and unsophisticated parts made of wood and other non-strategic materials. More importantly it could be assembled by semi-skilled and non-skilled labor. The Volksjager Heinkel HE162 was designed to be easy to fly as the Luftwaffe was running out of experienced pilots. Most of the design work was completed by Professor Benz. The BMW 003 axial-flow turbojet was mounted in a pod nacelle uniquely situated atop the fuselage directly aft of the cockpit. Unusual looking twin vertical tailfins were mounted at the ends of highly dihedralled horizontal tailplanes to clear the jet exhaust. Likewise an ejection seat was provided for the pilot so that a pilot bailing out could escape the jet intake and exhaust. At this stage of the war German Luftwaffe pilots were deemed far more valuable than the machine itself.
It was practically half the weight of other fighters and had a maximum speed of 750 km/h (470 mph) at sea level, operational endurance at least a half hour, and the takeoff run no more than 500 m (1,640 ft). Armament was specified as either two 20 mm MG 151/20 cannons with 100 rpg, or two 30 mm (1.18 in) MK 108 cannons with 50 rpg. This warbird jet fighter had some nasty flying characteristics due to the rushed designs and quick prototype production. Heinkel HE 162 were first delivered to the Luftwaffe in February 1945.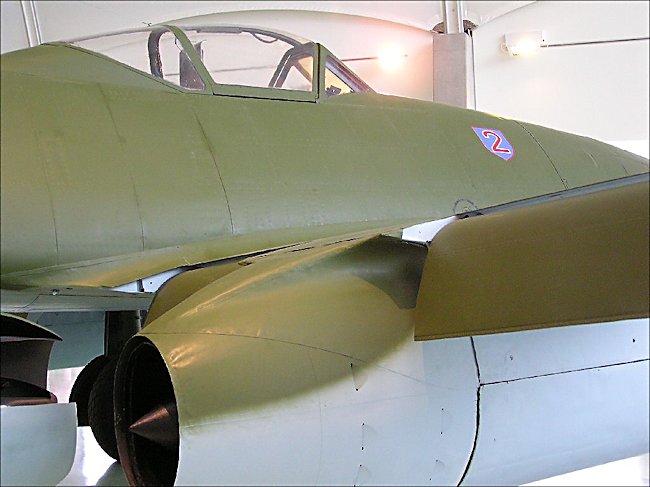 Photograph taken at the RAF Museum, Hendon, London NW9 5LL England
Only two unconfirmed victories were claimed by Heinkel HE 162 pilots. Less than 200 Heinkel HE-162 were actually delivered to German Luftwaffe squadrons. One of these was a "probable" victory by Lt. Rudolf Schmitt flying a He 162 "White 1" against a Typhoon or Tempest above Rostock. On 19 April, a captured Royal Air Force fighter pilot informed his German interrogators that he had been shot down by a jet fighter matching the description of the He 162. The Heinkel and its pilot were lost as well, shot down by an RAF Hawker Tempest while on approach.
Though still in training, 1/Erganzungs-Jagdgeschwader 1 (fighter wing) had scored a number of kills beginning in mid-April, but had also lost 13 He 162s and 10 pilots. 10 of the aircraft were operational losses, caused by flameouts and sporadic structural failures. Only two of the 13 aircraft were actually shot down. The He 162's 30-minute fuel capacity also caused problems, as at least two of JG 1's pilots were killed attempting emergency landings after exhausting their fuel.
The Heinkel HE162 had a number of different names. Its nickname was the sparrow (Spatz. When under construction its codename was Salamander. The Reich Air Ministry's named it the people's fighter (Volkssturm). By the time of the German unconditional surrender on 8 May 1945, 120 He 162s had been delivered; a further 200 had been completed and were awaiting collection or flight-testing; and about 600 more were in various stages of production. Some of these HE 162's can be seen at the Royal Air Force Museum, Hendon, London, Imperial War Museum in London, Musee de l'Air et de l'Espace near Paris, France, U.S. National Air and Space Museum.
He 162 jet books
Tweet